News at the platform
Grant award from Regione Lazio to develop 3D high-content imaging methodologies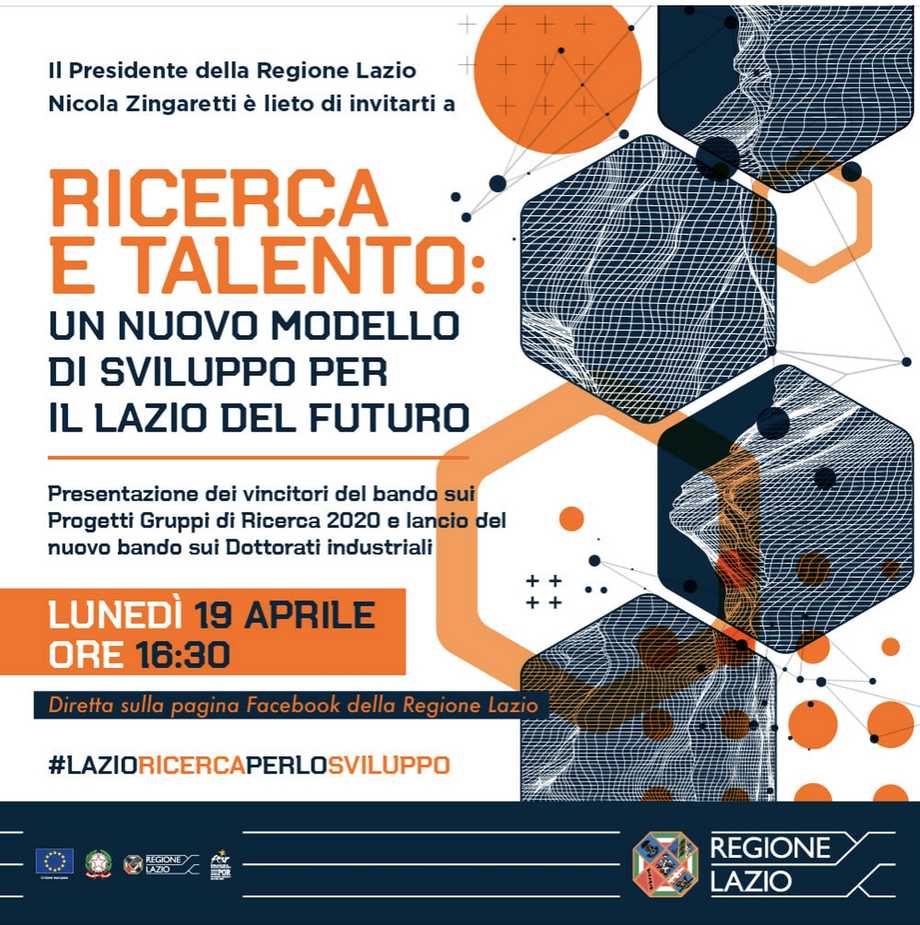 2021-04-19
The project "Metodologie innovative di 3D high content imaging per la validazione di nuove molecole antitumorali" coordinated by Dr Francesca Degrassi has been funded by Regione Lazio within the Call "Progetti Gruppi di Ricerca 2020".
IBPM Workshop – Artificial intelligence and automation meet cellular imaging in biomedical research
2021-03-25
Cellular imaging is undergoing an unprecedented development that has greatly amplified its informative power with the introduction of machine learning, artificial intelligence-based approaches and quantitative data analysis. The workshop has explored the application of these methods in as diverse cell biology fields as cell migration a, morphological reconstruction of subcellular structures, and use of model organism- and cell-based assays in genetic and drug screening.
New publication from the microscopy platform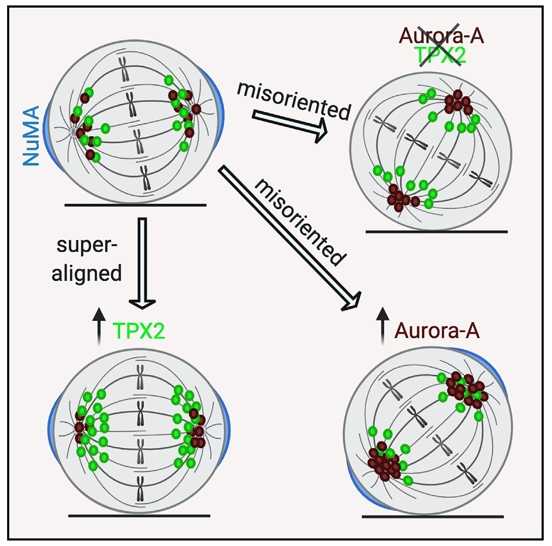 2021-02-08
Polverino F, Naso FD, Asteriti IA, Palmerini V, Singh D, Valente D, Bird AW, Rosa A, Mapelli M, Guarguaglini G. The Aurora-A/TPX2 Axis Directs Spindle Orientation in Adherent Human Cells by Regulating NuMA and Microtubule Stability.
Curr Biol. 2021. 31:658-667.e5.
doi: 10.1016/j.cub.2020.10.096. Epub 2020 Dec 3.
In this study we characterised the role of the Aurora-A kinase and its major regulator TPX2 in the control of mitotic spindle orientation in mammalian cells, a process which determines the position and fate of daughter cells.
Work was collaboratively carried out by groups at the Institute of Molecular Biology and Pathology (IBPM) and at the European Institute of Oncology (IEO). Research groups at Sapienza University and at the Max Planck Institute of Molecular Physiology (Dortmund, DE) participated to the project.
IBPM reference person: Giulia Guarguaglini
Events
Seminars in: Research Design in Genetics and Molecular Biology, Sapienza University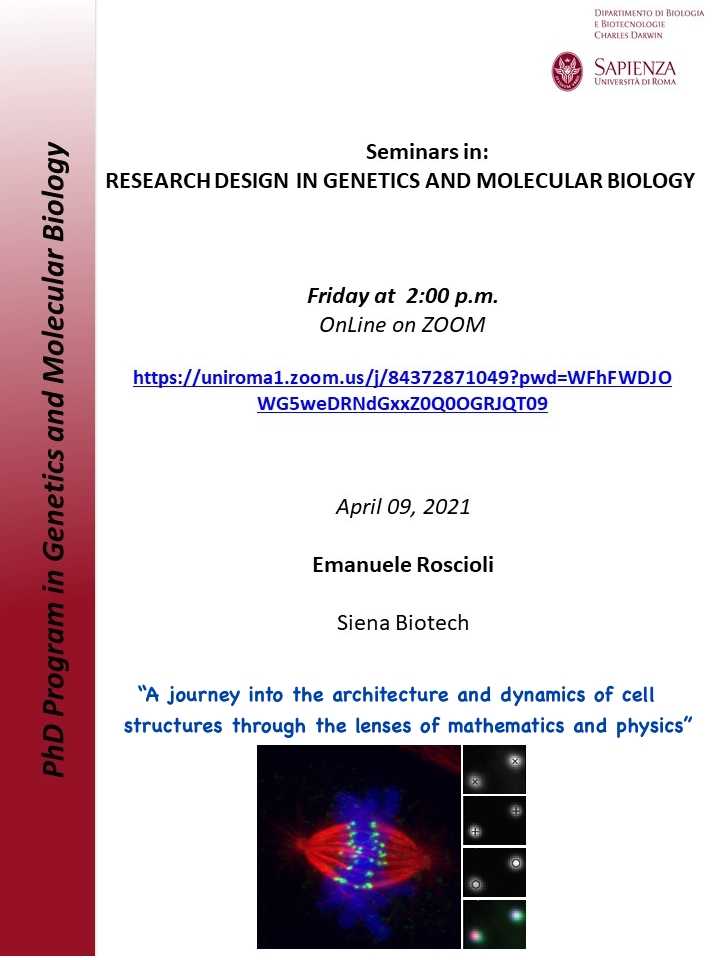 2021-04-09
An account of how coupling high-resolution imaging metods with mathematics and physical modelling provides insight into cell dynamics.
Guest speaker: Emanuele Roscioli, Fondazione Toscana Life Sciences, Siena.
Incontri al DSB – EuroBioImaging Italia and its nodes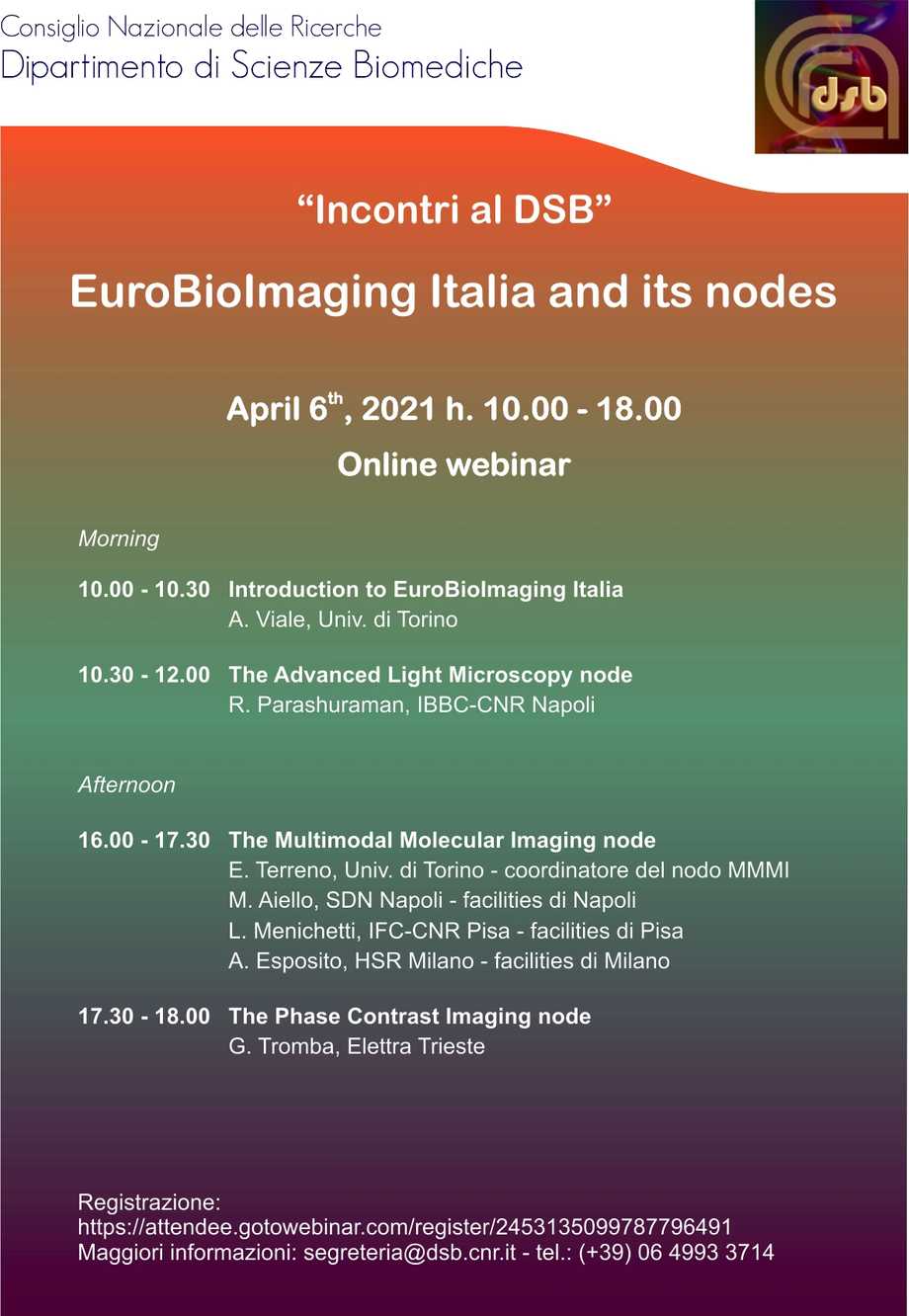 2021-04-06
Euro-BioImaging is the European landmark research infrastructure for biological and biomedical imaging. Through Euro-BioImaging, life scientists can access imaging instruments, expertise, training opportunities and data management services. The webinar presented the activity of the Italian nodes to CNR biomedical scientists.